Transnistria and Ukraine conflict: Is war spreading?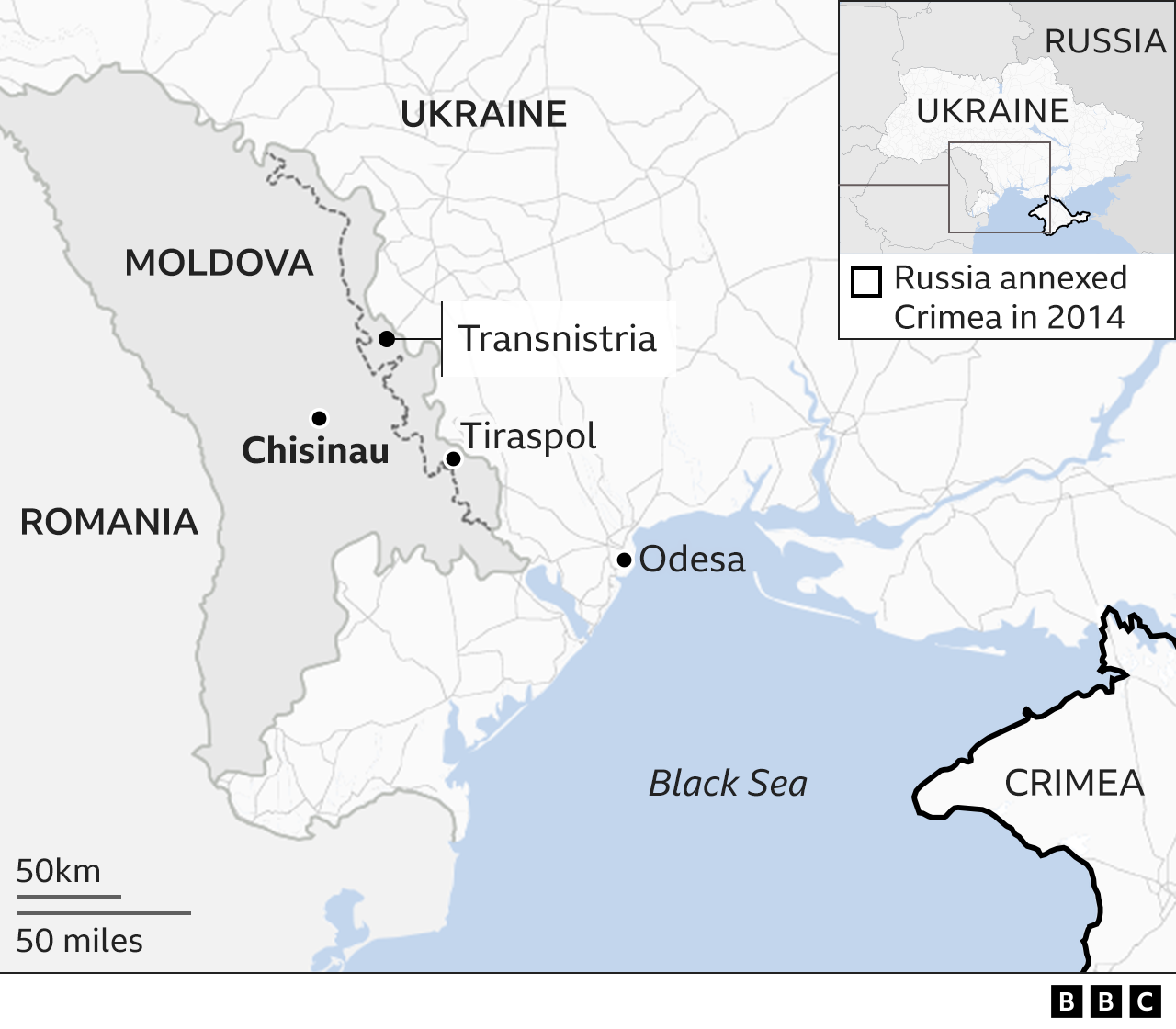 Mysterious explosions in Transnistria, a breakaway Russian-controlled territory in Moldova bordering on Ukraine, have raised fears that the Ukraine conflict may be spreading.
Separatist authorities said Ukrainian "infiltrators" were responsible. But Ukrainian President Volodymyr Zelensky has blamed Russian special services.
Russia says it is concerned. It has about 1,500 troops in Transnistria.
An official has said Russian speakers in Moldova are being oppressed.
This is the same excuse used to justify the invasion of Ukraine.
In the past two days, the Transnistria authorities say, explosions targeted:
Their state security HQ in Tiraspol, the main city
Old Soviet-era radio masts used to broadcast Russian news
A military unit in Parcani, a village just outside Tiraspol
No casualties were reported, but a red "anti-terrorism" alert is now in force, meaning heightened security in the territory, which broke away from Moldova in a brief war in 1992.
A Transnistria official said three unidentified infiltrators from Ukraine had attacked the security HQ with a grenade launcher. That claim has not been verified.
The Kremlin says it is watching the situation closely and "it is a cause for concern".
In Kyiv, President Zelensky was clear that Russia was behind it, adding: "The goal is obvious – to destabilise the situation in the region, to threaten Moldova. They show that if Moldova supports Ukraine, there will be certain steps."
"But we understand their capabilities, the Armed Forces of Ukraine are ready for this and are not afraid of them," Mr Zelensky said on Tuesday.
A flare-up in Transnistria could destabilise Moldova and open up a new front in the Ukraine war. Odesa, Ukraine's key port city, lies just east of Transnistria.
If Russia reinforces Transnistria, it might then move on Odesa from the west. Its push on the city from the east was blocked by Ukrainian troops. That would divert Ukrainian forces who are already seriously stretched.
On Friday a top Russian general, Rustam Minnekayev, said "control over the south of Ukraine is another way out to Transnistria, where there are also cases of oppression of the Russian-speaking population".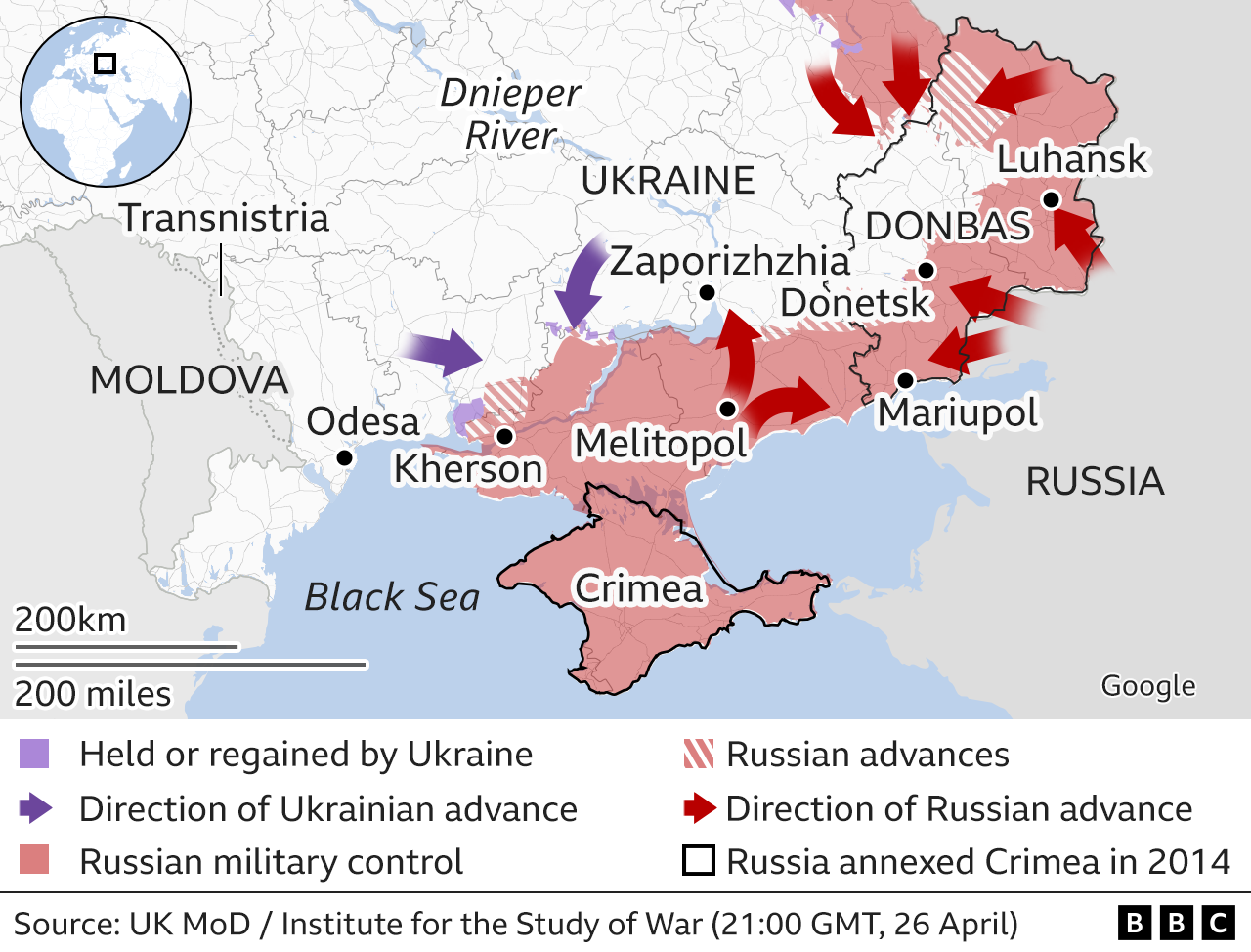 President Vladimir Putin has pledged to "protect" ethnic Russians in ex-Soviet republics. That was his argument for invading Ukraine. Moldova was formerly a Soviet republic.
Today Moldova's closest ally is Romania but, unlike Romania, Moldova is not in Nato or the EU. Many Moldovans have Romanian passports and work in the EU.
Moldova is one of Europe's poorest countries. It is also home to many ethnic Ukrainians.
Moldova's President Maia Sandu is strongly pro-EU, but her predecessor Igor Dodon – who still has many supporters – was pro-Russian.
Moldova has banned public displays of the St George ribbon and the Z sign identified with the Russian military invasion of Ukraine.
The separatist region of Transnistria – a narrow strip of land between the Dniester river and the Ukrainian border – proclaimed independence from Moldova in 1990 – though the international community does not recognise its self-declared statehood.
After World War Two, Moscow created Moldova's forerunner, the Moldavian Soviet Socialist Republic, from the mainly Russian-speaking Dniester region, which had been an autonomous part of Ukraine, and the neighbouring region of Bessarabia, which had been part of Romania from 1918-1940.
But as the Soviet Union collapsed, alarm grew in the Dniester region over growing Moldovan nationalism and the possible reunification of Moldova with Romania, and the region proclaimed its secession.
Up to 700 people were killed in a short border war between Moldova and Transnistria – a ceasefire was signed in 1992. The settlement was enforced by the Russian troops stationed in Transnistria.
You are welcome to read the ISHR report "Transnistria: an open wound in eastern Europe"
27.04.2022