The project is supported by the United Nations Development Programme (UNDP). In its first ten days of operation, the Centre conducted more than 1,200 consultations. Funding for the project was provided by Sweden.
UNDP supports the launch of the Virtual Centre for Assistance to Ukrainian Refugees
How to obtain temporary asylum in EU countries or financial assistance? How to start a business abroad or relocate a business within or outside the country? Ukrainian refugees or internally displaced persons can get answers to these and other urgent questions at the virtual centre "Dia.Biznes".
The project is supported by the United Nations Development Programme (UNDP). In its first ten days of operation, the centre provided more than 1,200 consultations. Funding for the project was provided by Sweden.
"At the very beginning, consultations were mainly related to job search: starting one's own business, relocating an existing business, looking for vacancies. But then the list of issues was expanded. The understanding came that before solving the issue of work, a person needed to understand how to correctly formalise a legal status in the new country (refugee status or temporary asylum, the so-called safety status). Also finding accommodation has become a priority issue. The hotline helps people with all these questions", says Anastasija Kucherjava, head of the Virtual Resource Centre "Dija.Biznes".
Innovative hotline
The centre now employs 18 counsellors, all of whom have extensive experience of working with similar services in Ukraine itself. The virtual centre is a new, innovative hotline. It is convenient that in addition to a free phone number there is a chat-bot where people can leave their appeals which will then be answered by specialists in real time. The contacts of the virtual centre "Diya.Biznesa" can be found on the Internet resources of the Ministry of Digital Transformation of Ukraine and the project partners. Also, information about the centre is often shared by people who have already used its services.
"As soon as the war started, we reformatted our work as there were many new challenges and requests. The Ministry of Digital Transformation approached UNDP with the initiative to make a virtual centre called Diya.Business, and we were happy to support it. The idea to make a hotline that would be useful for all Ukrainians, especially on such difficult days when people were leaving their homes en masse and travelling abroad, was very timely. An individual approach to each situation, each case, is important to us, which is exactly what this new virtual service does," said Oksana Grechko, UNDP Project Digitalization Policy Specialist.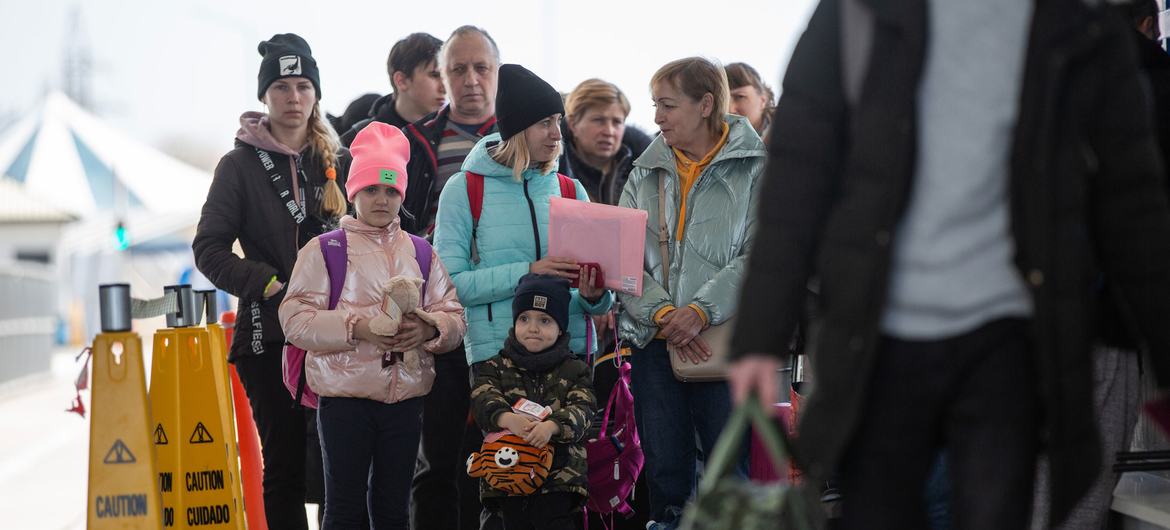 There are many nuances.
Information support is provided to refugees in seven countries: Bulgaria, the Czech Republic, Lithuania, Germany, Poland, Slovakia and Slovenia, as well as to persons displaced within Ukraine.
"We chose those countries where the largest number of Ukrainians have settled," explains Anastasia Kucherjava. – Everywhere there are both general rules for refugees and differences in them – each country has its own, at the level of national legislation. We expected that people would mostly ask about how to legalise their status abroad, but having analysed most of the requests, we realised that this is the least problematic. Nuances arise mainly for those who left Ukraine before the war (before February 24th) and now, according to the rules of many EU countries, are not eligible for "temporary protection". It is also common for people to arrive and register in one country and then move to another. Whereas at first it was easy with this, now if you submit biometric data in one country, you will get the status in another country, but you may be deprived of benefits, health insurance, education. The EU is trying to prevent the situation with uncontrolled migration, all countries are asking what is the reason for refusing temporary asylum in the previous place.
There is a separate story about citizens who fled to Schengen countries in the early days of the war and now want to go home to visit relatives or deal with various issues. Some countries grant residence permits, which do not restrict a person's freedom of movement. In others, they may not let you back for a number of reasons.
My mother left her children in Poland with a neighbour and went home to Ukraine to buy summer clothes. On the way back she was simply not allowed in
"My mother left her children in Poland with a neighbour and went home to Ukraine to buy summer clothes. On her way back she was simply not allowed in. They said to her – your 'visa-free visa' expired, and 'temporary asylum' is not a visa. And the woman is hysterical. Her two children are in a stranger's arms. There is no one to take the children to the border", says Anastasia Kucherjava about one of the appeals.
"How to apply for social benefits is one of the frequent questions. At the same time, we explain how a person can be employed in the EU, what are the peculiarities there. For many people it is obvious that in most EU countries an employee pays taxes for himself/herself. Everyone is trying to understand that system because it is different from the Ukrainian one," she says.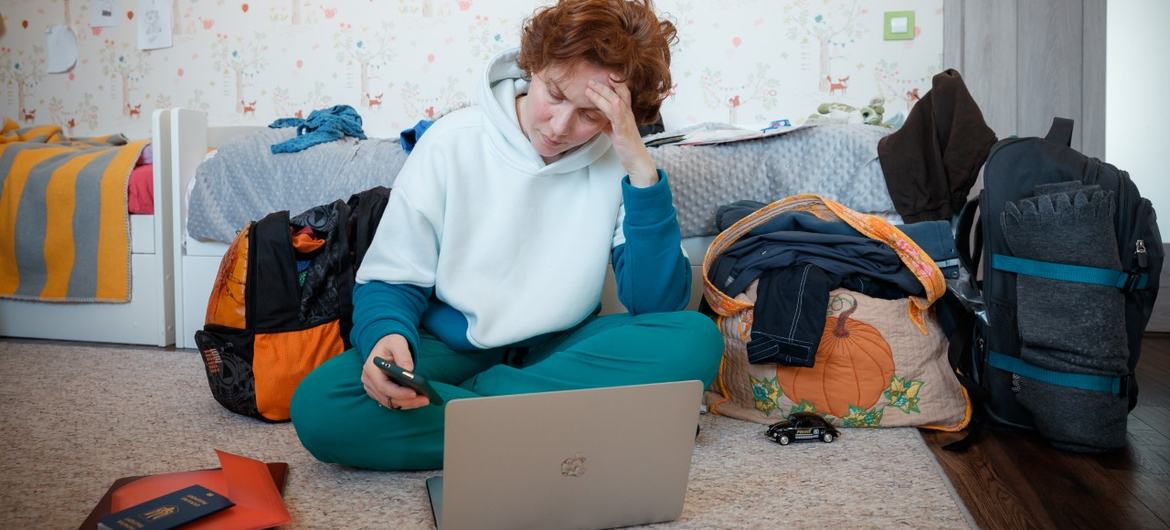 Understand the algorithm for action
There are also differences in the way a business is run. First of all, the centre's specialists explain that entrepreneurs need to understand the legal issues in detail before registering. The registration itself is not difficult at all, but it is necessary to understand at once the algorithm of actions, especially tax reporting, nuances with employment of employees and those obligations which are automatically imposed on him by the legislation of this or that country.
How to make social payments – one of the most frequent questions
There are many questions from businesses that are registered in Ukraine but operate from the EU. They are thinking about becoming exporters, i.e. they want to keep the Ukrainian registration, marking made in Ukraine on all their products, but integrate the product itself into the European market. There are many legal and tax issues: licensing and certification, registration of a representative office in the EU, and finding partners in the European market.
"One of the most active were Ukrainian dentists. Many of them had a private practice in Ukraine and are ready to resume it in any European country, but there is a problem with certification of medical diplomas. Many doctors have minimal capital and some have even brought their equipment with them. We explain that in such cases a person may be a manager of his clinic, but cannot directly treat. Many of our doctors are shocked by this. Because for them the main thing is not to manage, but precisely to provide medical services. We try to tell people about the benefits in such a situation. We talk about the fact that local doctors they can hire have their own patients, so it will be easier to find clients," shares Anastasia.
"Companies that export maize, seeds," she continues. – We advise them separately. It matters the volume of production, whether it is certified, how far it is from the EU border, whether the company has a representative office in the EU and so on. There are also product companies. There are a lot of questions from IT businesses. For everyone, the virtual centre tries to provide an individual full package of information. Right on the day the client receives a personal 'road map' – a document detailing the algorithms and recommendations regarding his request".
Complicated cases
The centre also provides emergency assistance. There are many stories when people just run away from war, find themselves with absolutely nothing in another country, call and ask for emergency numbers, ask for help to find accommodation, compose CVs for employment. There are also very difficult cases due to difficult life circumstances.
When such a request comes in, your first reaction is goosebumps. You realise that the person is in a state where they are unable to go anywhere and ask anything
"One tragic story happened just recently," says Anastasia Kucheryava. – A woman was working abroad, her husband was on duty in Ukraine. Their child, who was with her, had an accident and died. The woman called us. She was in shock, she did not know what to do. She only understood that her husband had to come and take them home somehow. When such a request comes, the first reaction is goosebumps. You realise that the person is in a state where they are unable to go anywhere and ask anything. We immediately started involving lawyers, explaining to the woman the algorithm of actions in such a situation. It wasn't easy, because she had to translate the death certificate from the language of the country where she was with her child into Ukrainian, give her husband a document on the basis of which he could go abroad; her husband, for his part, had to get a temporary exit permit from the military enlistment office. At the same time, all the documents for transporting the body had to be drawn up with special carriers. We solved all this in an hour and a half. In such cases we understand that there is no time and it is important to do everything quickly and accurately".
According to her, there is a lot of general information in the virtual space and a person suffering from stress gets lost in this flow and does not understand how to apply many elementary things to their situation, what address to go to, who to contact. And many forums and Internet portals can give unverified data, which only disorient people.
Specialists of the virtual portal Diya.Biznes helps people to understand, provides reliable information and necessary contacts. "We try to solve each case, each problem, as if it concerns us," says Anastasia Kucheryaeva.
Source: un.org