Ukrainian refugees in Moldova: "I help because I am a mother.
After Russia's war against Ukraine began, Moldova received hundreds of thousands of refugees. Ninety-five percent of refugees from Ukraine in Moldova live with their families.
Ten people now live in three rooms in the house of Marianna, who lives 50 kilometers from the Moldovan capital. The woman has taken in two refugee families. "What else was I supposed to do? I couldn't leave these people on the street," Marianna says. It's not easy for so many people to live together in such a small space, but everyone helps each other. On Sunday nights, guests and hosts all watch TV together.
For almost a month, Marianne and one of her Ukrainian guests, Oksana, prepare breakfast every morning for all 10 residents of the house. "We try to offer the refugees what we can to make them feel at home," Marianne says.
How Moldova Receives Refugees
Moldova is one of the poorest countries in Europe and has received the largest number of refugees in relation to its own population, with 2.6 million inhabitants. Of the more than 400,000 people who fled Ukraine, 100,000 remain in Moldova. To support this country, an international donor conference was held in Berlin on April 5, 2022, and a solid package of financial aid was provided.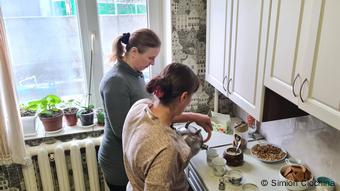 Oksana and Marianna preparing breakfast
About 95 percent of the Ukrainian refugees in Moldova have been placed with families, as in Marianna's case. "We have small salaries, but we try to make sure there is food on the table for everyone," the hostess tells DW. – "But we are concerned about rising prices. Gas, light, every day items have gone up a lot lately. We hope things will normalize as soon as possible."
Breakfast is ready. The women call everyone to the table. Oksana hugs her daughter Zlata and tells how they fled Ukraine: "We decided to flee the war because our children's safety was most important to us.
"We took only the essentials with us."
"We took with us only the essentials, clothes and hygiene products – what we could fit in our car. We are from a village near Odessa. Recently we were horrified to learn that the outskirts of Odessa had been bombed. And the bodies of murdered Ukrainian soldiers were being brought to neighboring villages. I talked to our neighbors, they say our house survived," Oksana says.
She cannot hold back her tears: "Most of all, I miss my house. My husband and I built it with our own hands for many years. We want the war to be over. We want to go home. But Oksana understands that this day may not come so soon: "We think about how to find a job here. War is a heavy burden, it's pain that's hard to describe with words."
"Помогаю, потому что сама мать"
Недалеко от деревни Марианны живет Инна Негрута, предпринимательница, которая превратила свою фабрику по производству фасованного меда в склад, где собирает все необходимое для беженцев. "Мы получаем различную гуманитарную помощь от людей из-за границы: игрушки, памперсы, средства гигиены, книги, продукты питания – вещи, которые нужны женщинам и детям, бежавшим из Украины", – говорит Инна.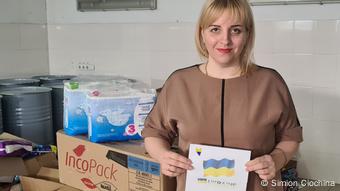 Предпринимательница Инна собирает и распределяет гуманитарную помощь
Когда она увидела, сколько беженцев из Украины приехало в Молдову после начала войны, то решила заняться волонтерством: "Я помогаю, потому что я сама мать, у меня двое маленьких сыновей. Я не могу себе представить, что чувствуют матери из Украины, которые должны были оставить все". Каждую неделю Инна готовит пакеты с гуманитарной помощью и раздает их семьям беженцев. На своем автомобиле она развозит гуманитарку и по другим городам Молдовы.
Сначала она покупала все необходимое на собственные деньги. "Потом я кинула клич по знакомым и друзьям, потом написала объявление в соцсетях. Каждый, кто что-то жертвует, пусть даже это не так много, помогает нам приобретать то, в чем нуждаются беженцы, – рассказывает Инна. – У меня из головы не выходят разговоры с украинскими женщинами. Они оставили в Украине своих мужей. Я видела панику в их глазах. Я встретила женщину, которая потеряла мужа, она не знает, что делать дальше. Как можно не помогать, когда видишь такую трагедию в 21-м веке?".
"Когда все закончится, мы отстроим свою страну"
В 10-ти километрах от города, где живет Инна, в кемпинге, принадлежащем баптисткой церкви, живут 75 беженцев из Украины. Здесь корреспондент DW встретила 23-летнюю Анну из Мариуполя. Ей удалось убежать из города еще до начала блокады.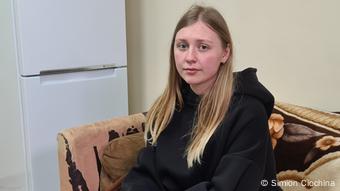 Анна из Мариуполя
Анна очень переживает за свою бабушку, которая осталась в Мариуполе. "Уже 30 дней как я ничего о ней не слышала. В Мариуполе нет еды, воды, света, газа. У меня нет ни одной весточки от нее", – говорит она.
В Молдове молодая женщина чувствует себя в безопасности и может помогать таким же беженцам, как и сама. Но она не намерена здесь оставаться до окончания войны, а хочет вернуться в Одессу к своему другу. Там она планирует помогать старикам, которые не могут сами о себе позаботиться. "После того, как все закончится, мы отстроим свою страну снова", – рассказывает Анна о своей мечте.
Source: dw.com