Russian war censorship denounced on World Press Freedom Day
Russia's ranking on the World Press Freedom Index has fallen again over the Kremlin's wartime censorship of the Ukraine conflict. From Myanmar to Mexico, journalists continue to risk their lives to deliver the news.
The Russian government has taken complete control of news and information to manage the public's view of the country's invasion of Ukraine, Reporters Without Borders (RSF) said on Tuesday as it published the latest World Press Freedom Index.
The Paris-based campaign group said Russian President Vladimir Putin had established extensive wartime censorship at a level not seen since the Soviet Union, launching a massive disinformation campaign to justify the conflict.
Russia, which was previously ranked just 150 out of 180 countries as a result of a decadelong crackdown on independent media, has fallen a further five places in the latest index to 155, below Zimbabwe, Sudan and Libya.
Reporters killed covering Ukraine war
At least 20 journalists and media workers have died or been injured since Russian tanks rolled into Ukraine on February 24, according to the National Union of Journalists of Ukraine.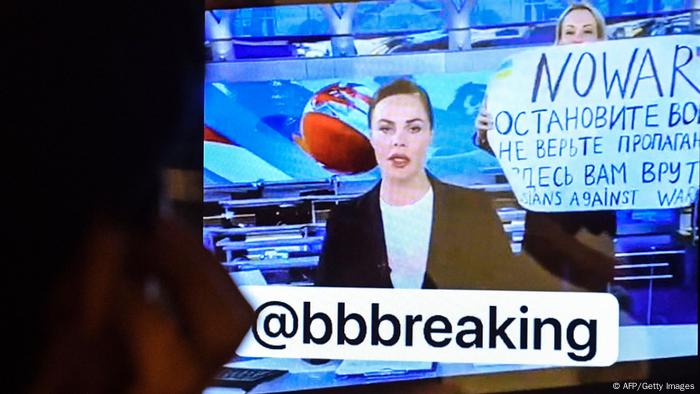 Journalist Marina Ovsyannikova (right) burst into a live broadcast in March to condemn Russia's invasion of Ukraine
Putin's clampdown on non-compliant media and journalists began before the war. Since 2017, about 90 media outlets and individuals have been labeled "foreign agents" and forced to shut down and/or flee the country.
Reporters Without Borders said the Kremlin's influence stretches to the media in neighboring former-Soviet countries, like Belarus, which is ranked 153rd in the Press Freedom Index. A growing number of Belarusian media outlets have been labeled "extremist," which means that reading and sharing their content on social networks is subject to criminal prosecution.
Following his disputed election win in 2020, Belarusian strongman Alexander Lukashenko was denounced internationally after he ordered a plane carrying exiled opposition journalist Raman Pratasevich to be diverted to Minsk last May. More than 20 media workers are currently in prison in Belarus.
Once again, the World Press Freedom Index reveals the dangers that journalists and many media outlets face in reporting on world events, in the face of increasing authoritarianism.
Hong Kong sees steepest drop in index
Hong Kong, for example, registered the steepest drop in the ranking, falling 68 places to 148th, as Beijing continues to extend its information control over the semi-autonomous Chinese territory. Saudi Arabia (166th), meanwhile, has been labeled as having some of the world's worst prisons for journalists.
Source: dw.com