Berlin is building a "bridge of solidarity" between Moldova and the West
At a conference in the German capital 9 international organizations and 36 donor countries decided to help Moldova for 695 million euros. The money will go not only to Ukrainian refugees.
When German Foreign Minister Annalena Baerbock visited Moldova in mid-March, she was apparently very impressed by the situation of Ukrainian refugees in that country. In the wake of that trip, she initiated the creation of an "air bridge" that began to transport Ukrainian women and children fleeing the war in their homeland directly from Chisinau to various German cities.
And on Tuesday, April 5, in Berlin, at the initiative of Berboc and with the assistance of her colleagues from France and Romania, a conference was held, attended by representatives of nine international organizations and 36 countries that are ready to provide Moldova with urgent financial and humanitarian assistance, not only to receive Ukrainian refugees. It's about building a "bridge of solidarity" between Moldova and the West, Berboc said when she opened the meeting.
More than 3% of Moldova's population are refugees from Ukraine
The Prime Minister of Moldova, Natalia Gavrilitsa, also came to Berlin. In an interview with DW, she said that since the beginning of hostilities in Ukraine, about 400,000 Ukrainians have crossed the Moldovan border, fleeing the war and its terrible consequences. Most of them went further to the West, but not all of them.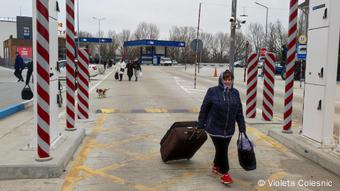 Refugees from Ukraine continue to arrive in Moldova
"Approximately 100,000 refugees have decided to stay in Moldova," Gavrilita said. – This is a very large number, considering the fact that the population of our country is only 2.7 million people. That is, more than three percent of Moldova's population are now Ukrainian refugees. They are mostly mothers with children. Half of all refugees are children."
For comparison, in Germany with a population of 83 million people, about 300,000 Ukrainian refugees are still registered. In Poland, with a population of 38 million, there are 2.5 million refugees from Ukraine.
According to the prime minister, of all the countries neighboring Ukraine, Moldova finds itself in the most vulnerable and risky situation. And it is not only the social and economic consequences of the war directly at the Moldovan border. We should also keep in mind Transnistria, where Russian troops are stationed. "And we do not have any "security umbrella," says Natalia Gavrilitsa. – The foreign trade, 15% of which was accounted for by Ukraine, Russia and Belarus, and Odessa was also for Moldova the most important foreign trade port, suffered greatly.
Donor countries will allocate almost 700 million euros to Chisinau
The consequences of the war unleashed by Russia against Ukraine are particularly strong in Moldova. Over the past six months, gas prices have increased eightfold, and inflation has reached 18%. If last year the country had economic growth, this year it is expected to be in recession.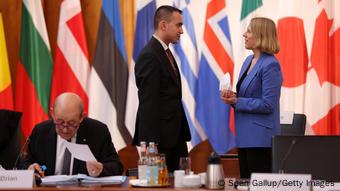 French, Italian and Norwegian foreign ministers at a donor conference in Berlin
"This country is especially vulnerable because it is almost 100 percent dependent on Russian gas supplies," recalls Svenja Schulze, Germany's minister for economic cooperation and development, who decided to boost aid to Moldova by 5 million to 40 million euros through her ministry. Another 50 million as an untied loan to Chisinau by the German government on the orders of Chancellor Olaf Scholz.
And the intermediate result of the conference of donor countries in the Foreign Ministry of Germany – 695 million euros, which will soon be transferred to Chisinau. Including loans and 108 million direct subsidies to the state budget of Moldova.
Western aid to Moldova in five areas
"Moldova is not alone," Annalena Berboc said at the press conference, addressing Natalia Gavrilita. – We see the challenge you face, we are on your side, and we act pre-emptively. Germany and its partners are ready to help Moldova in five areas. One is the reception and lodging of Ukrainian refugees, including the transfer of some of them to other European countries and humanitarian aid worth 71 million euros. The second is support for Moldova with regard to energy supply in areas in which the country is particularly vulnerable because of gas dependence.
The third direction is to help accelerate Moldova's judicial reforms, fight corruption and promote economic development. Fourth, Berboc went on to enumerate, we will help establish border management. And fifth, "to strengthen Moldova's endurance in the financial sector", for which, in fact, 695 million euros were gathered at the donors' conference.
Thanking Annalena Berboc and other participants of donor-countries conference, Natalia Gavrilitsa has reminded that Moldova has applied for the membership in the European Union. We want to be part of the free world, it is a natural step for us, we want to be a member of the European Union, because we believe in progressive development based on democracy and rule of law statehood," she stated. – We know that this is the only way we will be able to keep the promises we have made to our people and ensure a higher standard of living in the country.
Source: dw.com